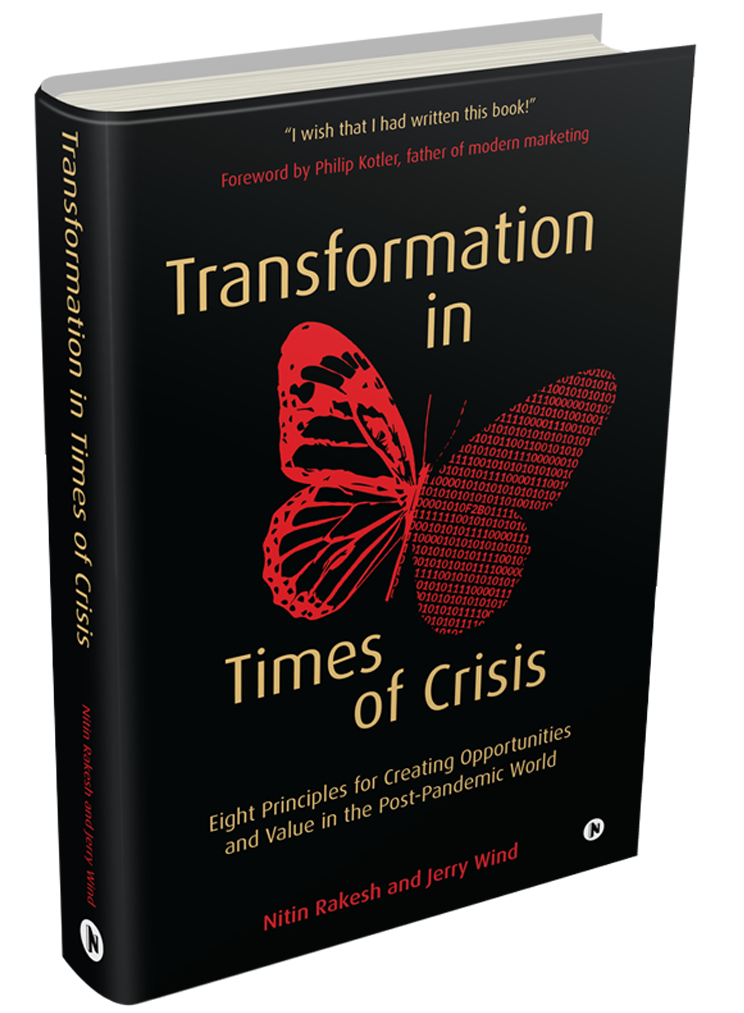 Eight Principles to Create Opportunities and Value in the Post-Pandemic World
You can customize and implement a winning strategy by using the eight principles that are outlined in this book by Nitin Rakesh and Jerry Wind. For a deeper understanding of how the 8 principles interact with and influence each other, download the introduction chapter of the book.
The 8 Principles
1: Challenge Your Mental Models and Always Stay Ahead
Every company in every industry can find its opportunity in this crisis if its executives view these times as an opportunity to reexamine, and if needed, change their mental models.
2: Reimagine and Reinvent Your Approach to Customers and Stakeholders
Being proactive about communication especially with customers in a sensitive fashion is imperative.
3: Speed up Digital Transformation and Design for Personalization at Scale
Personalize each individual unique experience using enhanced digital capabilities.
4: Reinvent Your Talent Strategy and Embrace Open Innovation and Open Talent
Find the right internal and external talent to drive your company to innovate and come out strong regardless of whether there is a presence of a crisis or not.
5: Seize the Need for Speed and Design for Agility, Adjacencies and Adaptability
In a dynamically changing environment, ensure you can adapt fast. Build the capability to quickly mold yourself to flourish in any environment.
6: Innovate Then Experiment, Experiment, Experiment
A crisis is a great opportunity to learn from natural experiments. Experimentation and innovation are critical in everything we do.
7: Redraw Your Timelines and Build a Portfolio of Initiatives Across all Innovation Horizons
Even as you are addressing the current needs during a crisis, you also need to create opportunities it offers, and prepare for the next crisis.
8: Deploy Idealized Design, Recreate Your Organizational Architecture and Network Orchestration
The idealized design process is a powerful tool, which involves imagining what the future could be and then working backwards to the present to create that reality.
"I wish that I had written this book!"
Foreword by Philip Kotler, father of modern marketing
"Until now there has been no specific go-to guide to figure a way out of the current situation. The timing of this book...could not have been any better"
Harish Manwani, Senior Operating Partner, Blackstone
"As Rakesh and Wind skillfully illustrate in. their topical, timely, well-argued book, companies can only survive and emerge stronger after  crises by doing the right thing and serving the interests of all of their stakeholders."
William P. Lauder, Executive Chairman, The Estée Lauder Companies
"Nitin Rakesh and Jerry Wind offer important, useful,. tested insights that are uniquely timely – and timeless."
David Schmittlein, John C Head III Dean and Professor of Marketing, MIT Sloan  School of Management
"Transformation in Times of Crisis is one of the most insightful, timely and relevant books to be  written. Its core message - that every crisis presents opportunities disguised as challenges - needs to be heeded widely. While the book is not aimed at government officials, it makes a  compelling case why public policy must work hand in hand with private enterprise to find  innovative solutions to the global crisis."
Lady Barbara Thomas Judge, Senior Advisor, Athene Capital
"...This is a playbook that can be applied at all times including the current crisis."
Raamdeo Agrawal, Co-Founder and Joint Managing Director, Motilal Oswal Financial Services
"The COVID crisis has dramatically accelerated the trends of digital disruption that were already underway. Businesses either need to seize the opportunities created by that disruption, or risk being left behind. Rakesh and Wind provide a smart guide to the first option."
Alan Murray, CEO, Fortune
"We should view the global pandemic, social unrest and economic crisis not as  problems but as opportunities. These are helping us speed up long overdue changes to test new  programs, partnerships, business models and approaches to set the stage for the continued  transformation of TIME. This is consistent with the approach that Rakesh and Wind recommend, which is why I  am sure other leaders will find their book as relevant as I did."
Keith A. Grossman, President, Time Magazine
"...This is a must read primer for businesses, entrepreneurs, students, and philanthropists alike..."
Mukesh Aghi, President and CEO, US-India Strategic Partnership Forum